Figuring out when to plunge into the real estate market can be quite intimidating—especially when prices are high, choices are limited, and history urges restraint according to a recent article on Realtor.com.
"We've seen two or three years of what could be considered unsustainable levels of price appreciation, as well as an inventory shortage that resulted in a record-low number of homes for sale across the country," says Javier Vivas, director of economic research for realtor.com®. "When you factor those together, you have a market that has to either explode or see some relief."
Here are the three reasons why now may be the best time to buy.
1. Rates are going up and up.  The rate for a 30-year fixed mortgage broke the 4% mark last year. And with economic growth continuing to carry momentum, Vivas predicts we'll see at least two to four more rate increases throughout 2018. Rates are anticipated to hit 5% by the end of the year.
2. Prices are climbing – Home prices have soared over the past few years, pricing otherwise well-positioned buyers out of high-cost areas and leading some experts to cry "bubble". But in 2018, price increases are expected to moderate.
3. Inventory levels will begin to increase.  An inventory shortage has plagued the U.S. housing market since 2015, forcing some buyers to settle  and keeping others out of the buying game entirely. But by fall 2018, the tides will begin to turn.
So there you have it.  The bottom line is " Buying remains the more attractive option in the long term—that remains the American dream, and it's true in many markets where renting has become really the shortsighted option, Vivas says. As people get more savings in their pocket, buying becomes the better option."
The Smyrna area is a great area to consider when you are purchasing a new home.   The Gates at King Springs is offering just 26 homesites featuring three and four bedroom townhomes.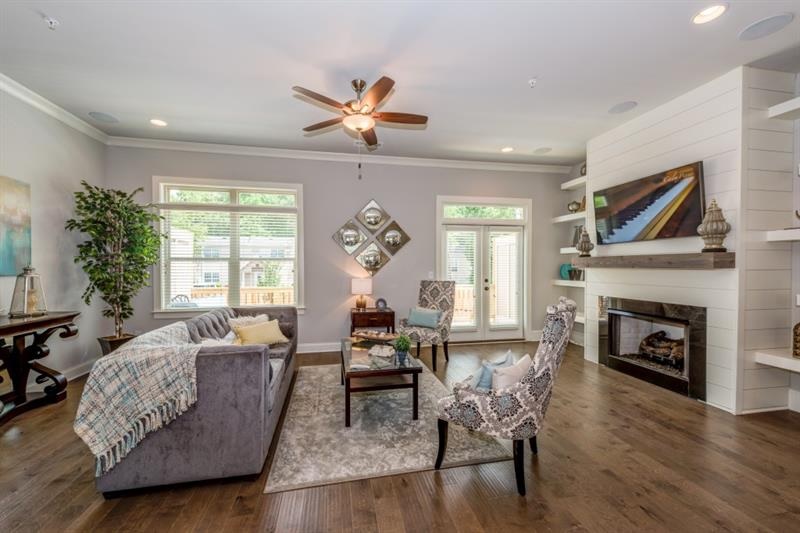 Each new home showcases luxury finishes, hardwood floors, fireplaces, 2 car oversized rear-entry garages plus oversized private decks.  Fabulous new home plans with some offering an elevator option and the community features beautiful courtyard views.  All townhomes are large and range from 2,000 to 2,400 square feet.
The Gates at Kings Springs is wonderfully located just six miles from the new  Suntrust Park and Battery Atlanta. Great shopping and events can be found just down the road at Cumberland Mall and The Galleria and around four miles to Vinings Jubilee and is less than 2 mi from Smyrna Market Village, Belmont Village, Silver Comet Trail.  With such easy access to major expressways, Smyrna is convenient to the very best of Atlanta and a downtown Atlanta commute is a breeze. It is a quick walk to Tolleson Park.
If you are wondering if the schools are good before you choose your new home at The Gates at King Springs, check out this exciting news:  King Springs Elementary School was just awarded one of the 2018 Best Public Elementary Schools in America.  The community had its very first homebuyer who is a school principal in Georgia and the school was the winning reason  why they selected the community. With an A rating, Kings Springs Elementary is in the top 100 of the best public schools in Georgia as well.
Check out Waters Edge Group's newest community of The Gates at King Springs   featuring gorgeous well-appointed townhomes. *All photos shown depict similar product being built.
NOW Selling!  Call 678-578-6816 for an appointment.
Register here to stay informed as more information is released.
Homes from the high $300's
King Springs Road
Smyrna, Georgia 30082
Call Renee Hayden 678-578-6816 for an appointment today or email her at Renee.hayden@bhhsgeorgia.com.